2017 | 2016 | 2015 | 2014 | 2013 | 2012 | 2011 | 2010 | 2009 | 2008 | 2007
BOSTON TURKISH FILM FESTIVAL
EXCELLENCE IN TURKISH CINEMA AWARD
ERCAN KESAL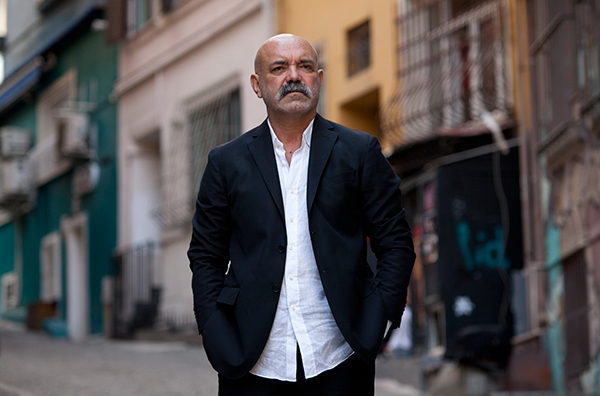 We are proud to present this year our 12th Boston Turkish Film Festival Award for Excellence in Turkish Cinema to actor, author, screenplay writer and director ERCAN KESAL, in recognition of his contributions to Turkish cinema.
An Award Ceremony will take place on the festival opening night on Thursday, March 22, 2018 at 6:30 pm at Remis Auditorium of the Museum of Fine Arts, following the screening of "Yol Kenarı" (Sideway). 
A documentary directed by Ercan Kesal, "Fındıktan Sonra" (Gone with the Hazelnuts), will be screened on Friday, March 23, 2018 at 7:00pm followed by a Q&A with the director.
ERCAN KESAL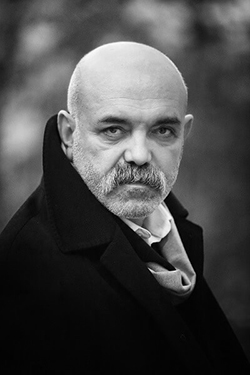 Ercan Kesal (Avanos, 1959) is actor, author, screenplay writer, director and a medical doctor. He graduated from Ege University Medical Faculty in 1984. He worked as a doctor in Keskin State Hospital, Bala and its villages. He also studied psychology and anthropology. He wrote many books, short stories, articles and screenplays. His began acting career in Nuri Bilge Ceylan's film,"Uzak" (Distant) and acted in many films since then. Ercan Kesal is the director of the documentary, "Fındıktan Sonra" (Gone with the Hazelnuts, 2018) and currently working on his first feature film as a director.
Ercan Kesal is the recipient of many prestigious awards from national and international festivals for his acting and script writing.
AWARDS
20th Golden Boll Film Festival, Adana, Turkey (2013): Best Actor for Yozgat Blues
32nd International Istanbul Film Festival, Turkey (2013): Best Actor for Yozgat Blues

Slovakia Art Film Festival (2013): Best Actor for Mold (Küf)

44th SIYAD Film Critics Association Awards, Turkey (2011): Best Supporting Actor for Once Upon a Time in Anatolia (Bir Zamanlar Anadolu'da)

44th SIYAD Film Critics Association Awards, Turkey (2011): Mahmut Tali Öngören Best Screenplay Award for Once Upon a Time in Anatolia (Bir Zamanlar Anadolu'da)

Yeşilçam Film Academy Awards, Turkey (2011): Best Screenplay Award for Once Upon a Time in Anatolia (Bir Zamanlar Anadolu'da)

14th Sadri Alışık Awards, Turkey (2009): Best Supporting Actor for Three Monkeys (Üç Maymun)

Yeşilçam Awards, Turkey (2009): Best Screenplay Award for Three Monkeys (Üç Maymun)
FILMOGRAPHY

Director

Nasipse Adayız (Fiction, in pre-production, 2019)
Fındıktan Sonra / Gone with the Hazelnuts (Doc., 2018)

Screenplay Writer

Anons / The Announcement (Dir. Mahmut Fazıl Çoşkun, 2018)
Bir Zamanlar Anadolu'da / Once Upon a Time in Anatolia (Dir. Nuri Bilge Ceylan, 2011)
Üç Maymun / Three Monkeys (Dir. Nuri Bilge Ceylan, 2008)

Actor

Görülmüştür / Passed by Censor (Dir. Serhat Karaaslan, 2018)
Kelebekler / Butterflies (Dir. Tolga Karaçelik, 2018)
Paranın Kokusu / The Smell of Money (Dir. Ahmet Boyacıoğlu, 2018)
Eksi Bir / Minus One (Dir. Orhan Oğuz, 2018)
Çukur / The Pit (TV Series, Dir. Sinan Öztürk, 2017 - Present)
Die Hölle (Dir. Stefan Rudowitzky, Germany-Austria, 2017)
Yol Kenarı / Sideway (Dir. Tayfun Pirselimoğlu, 2017)
İçerde / The Insiders (TV Series, Dir. Uluç Bayraktar, 2016-2017)
Bulantı / Nausea (Dir. Zeki Demirkubuz, 2015)
Ben O Değilim / I am not Him (Dir. Tayfun Pirselimoğlu, 2013)
Kayıp Şehir / Lost City (TV Series, Dir. Cevdet Mercan, 2013)
Hükümet Kadın 2 / Govern-Mum 2 (Dir. Sermiyan Midyat, 2013)
Sen Aydınlatırsın Geceyi / Thou Gild'st the Even (Dir. Onur Ünlü, 2013)
Yozgat Blues (Dir. Mahmut Fazıl Coşkun, 2013)
Hükümet Kadın 1 / Govern-Mum 1 (Dir. Sermiyan Midyat, 2012)
Küf / Mold (Dir. Ali Aydın, 2012)
Bir Zamanlar Anadolu'da / Once Upon a Time in Anatolia (Dir. Nuri Bilge Ceylan, 2011)
Albatrosun Yolculuğu (Dir. Cengis Temuçin Asiltürk, 2010)
Vavien (Dir. Yağmur Taylan- Durul Taylan, 2009)
Üç Maymun/ Three Monkeys (Dir. Nuri Bilge Ceylan, 2008)
Uzak / Distant (Dir. Nuri Bilge Ceylan, 2002)


BOOKS

Aslında (İletişim Yayınları, İstanbul, 2017)

Bozkırda Bir Gece Yarısı (İletişim Yayınları, İstanbul, 2017)

Zamanın İzinde (with Enis Rıza, Ayrıntı Yayınları, İstanbul, 2017)

Cin Aynası (İletişim Yayınları, İstanbul, 2016)

Nasipse Adayız (İletişim Yayınları, İstanbul, 2015)

Evvel Zaman (İthaki Yayınları, İstanbul, 2014)

Peri Gazozu (İletişim Yayınları, İstanbul 2013)