ECHO
Yankı
Best Short Film
Boston Turkish Festival's 17th Documentary & Short Film Competition
Directed by Hazal Kara & Sezin Ertek

FRIDAY, MARCH 24, 2023 | 7:00 pm
Screened with short film"Hello Africa", followed by feature film"Kerr"
Museum of Fine Arts, Boston
465 Huntington Avenue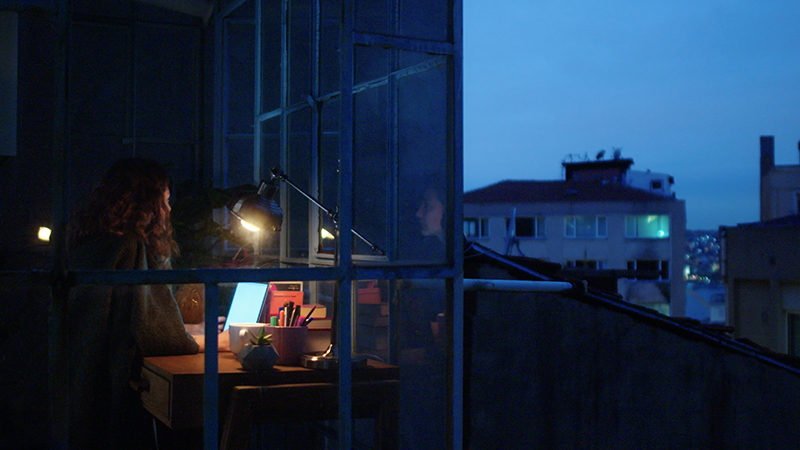 Cast: Bengü Ergin
Short / 19 min. / 2020
Scared and courageous, at home but not feeling safe at the same time...

A woman, a journalist, having served prison time because of her book, wins her freedom back and comes back to life she left behind. A chaotic Istanbul combined with the traumas of dark days past, she spends a day full of fear and paranoia. Is it possible to get used to live in constant fear?

Selected Festivals and Awards:

Boston Turkish Festival's 17th Annual Documentary & Short Film Competition (2022): Best Short Film
Max Ophüls Preis, Germany (2021)
Wendland Shorts, Germany (2021)
Ischia Film Festival, Italy (2021)
Vox Feminae Festival, Croatia (2021)
Directed by Woman Turkey (2021)
IFSAK International Short Film Festival, Turkey (2021)
Izmir Short Film Festival, Turkey (2020)
Directors HAZAL KARA & SEZİN ERTEK

Hazal KARA

After graduating from high school at Kadıköy Anadolu Lisesi, Hazal Kara studied in the Department of Film and Television at Istanbul Bilgi University. As part of the Erasmus exchange program, she studied European Media Studies at the University of Potsdam for one semester. In 2019 she graduated from Master's program in Art and Media at the University of the Arts in Berlin. During her studies, she worked for two years as a student assistant at the Film Institute of the Berlin University of the Arts. In 2018, the video installation "Wasps Nest", a recently produced piece from her project "Landscape of a Memory", was shown within the exhibition Blind Area at the art fair TÜYAP. Her short film "The Barn," which she directed, was screened at the 13th Akbank Short Film Festival, the 69th Cannes Film Festival Short Film Corner, and other international film festivals. Her latest short film, "Yankı / Echo", which she co-wrote and co-directed with Sezin Ertek, continues its festival journey.

Sezin ERTEK

Sezin Ertek received her degree on film and television from Bilgi University in 2013. Between 2008 and 2009, she worked as an actress in Bilgi Sahnesi Theater Team and gained experience as an assistant director in many commercial productions during her studies, especially with Kala Film company. During her studies in the Scenario Master's program at Bilgi University, she worked as a student assistant in the screenwriting courses of the Film and Television Department of Istanbul Bilgi University. She worked with Feride Çiçekoğlu and ZS Film Production on various scripts for television series. She participated in the script team of "The Day of My Destiny" (STAR TV, 2014) and "Dreams and Hope" (FOX, 2014). In 2016, the short film "The Barn," which she co-wrote with Hazal Kara, and short film "Tail" which she directed were screened at various film festivals. "Yankı/Echo" has just started the festival adventure. In February 2021, she graduated from the Berlin University of the Arts as an art-and-media master student. She is preparing for her first feature film under the supervision of the famous director Thomas Arslan, which she will again co-direct with Hazal Kara.