BURNING DAYS
Kurak Günler
East Coast Premiere
Written and Directed by Emin Alper
SUNDAY, MARCH 26, 2023 | 2:00 pm

Museum of Fine Arts, Boston
465 Huntington Avenue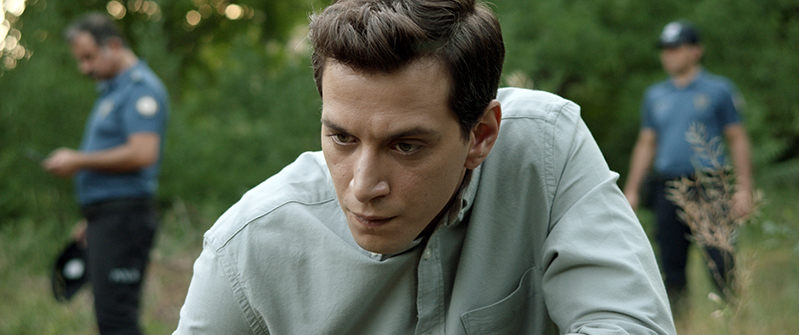 Cast: Selahattin Paşalı, Ekin Koç, Erol Babaoğlu, Erdem Şenocak, Selin Yeninci, Sinan Demirer
128 min. / 2022
"Compassion is in almost as short supply as water in Emin Alper's sardonic, seething Un Certain Regard breakout "Burning Days," a parched little parable about small-town corruption in chokingly patriarchal rural Turkey. Beginning and ending on the lip of a massive sinkhole on the village outskirts and featuring a manhunt that echoes a wild boar hunt and a mirage-like lake whose waters may or may not be toxic, here, the cool filmmaking is subtler than the metaphors." -- Variety

Emre, a young and dedicated prosecutor, is newly appointed to a small town hit by a water crisis and political scandals. After an initial welcome, he experiences an increasing number of tense interactions and is reluctantly dragged into local politics. When Emre forms a bond with the owner of the local newspaper pressure escalates under heated rumors.

Selected Festivals and Awards:

Cannes Film Festival, France (2022): World Premiere
Ankara International Film Festival, Turkey (2022): Best Actor (Selahattin Paşalı), Best Editing, Best Film, Best Screenplay, Best Supporting Actor (Erdem Şenocak), Best Supporting Actress (Selin Yeninci)
Antalya Golden Orange Film Festival, Turkey (2022): Cahide Sonku Award, Best Director, Best Actor (Selahattin Paşalı), Best Supporting Actor (Erol Babaoğlu), Best Cinematography, Best Editing, Best Music
European Film Awards (2022): Excellence Award
International Crime and Punishment Film Festival, Turkey (2022): Best Film Audience Award, Jury Special Award
Thessaloniki Film Festival, Greece (2022): Audience Award
Bergen International Film Festival, Norway (2022)
Chicago International Film Festival, USA (2022)
Jerusalem Film Festival, Israel (2022)
Munich Film Festival, Germany (2022)
Oslo Films from the South Festival, Norway (2022)
Pula Film Festival, Croatia (2022)
Sydney Film Festival, Australia (2022
Director EMİN ALPER

Emin Alper was born in 1974 in Ermenek, Karaman. Trained in economics and history at Boğaziçi University-Istanbul, Alper holds a PhD in Turkish Modern History.

His first feature, BEYOND THE HILL / Tepenin Ardı (2012), received numerous awards including the Caligari Film Prize at Berlinale Forum and Best Film at Asia Pacific Awards.

His second feature FRENZY / Abluka (2015) premiered at 72nd Venice Film Festival's in Official Selection's competition and received Jury Special Prize.

His third feature A TALE OF THREE SISTERS / Kız Kardeşler (2019) premiered at Berlin Film Festival's main competition and received many awards in several festivals.

Director Emin Alper's all three feature films were screened at the Boston Turkish Film Festival in previous years.

Aside from his filmmaking career, Emin Alper works as the artistic programmer of the newly found Istanbul Cinemateque since February 2021.