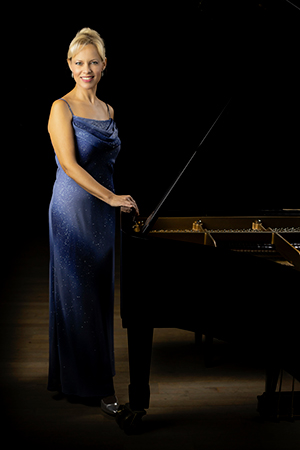 Piano virtuoso Hande Dalkılıç has been known as the artist who preserves and develops the Turkish piano heritage by promoting Turkish composers with her concerts and CDs in Turkey and in the world, and by making the first performances and recordings of the works of many of Turkish composers.
She also became the editor of Saygun's op.76 Sonata hand-writing which was published by Peer Music Classical (Hamburg) in 2012.
She recorded 7 CDs including world premieres and works dedicated to her by the composers (A. Adnan Saygun, Ulvi Cemal Erkin, Cemal Reşit Rey, Muammer Sun, Çetin Işıközlü under BMP and KALAN Music Labels. (available on digital media)
Her last album "My Favourite Romantics" that includes works of Romantic Era composers such as Chopin, Liszt and Gottschalk was released by Kalan Music Label in 2020.
Besides her performances as guest soloist with all Turkish State Symphonies, private orchestras and some foreign orchestras including Camerata Salzburg, Hande Dalkılıç has also given recitals and chamber music concerts in such countries as Austria, Bulgaria, Bosnia-Herzegovina, Canada, Czech Republic, Egypt, England, Estonia, Ethiopia, France, Finland, Germany, Greece, Holland, Israel, Italy, Kenya, Latvia, Malta, Norway, Pakistan, Poland, Romania, South Africa, Switzerland, Turkish Republic of Northern Cyprus, Tunisia, Ukraine and U.S.A. mostly at  international festivals.
Hande Dalkılıç, was born in Ankara, Turkey, studied in Bilkent University Faculty of Music and Performing Arts including her doctorate level with Prof. Ersin Onay. During this period and afterwards she studied and discussed musical ideas with distinguished pianist- pedagogues as G. Sandor, S. Benda and Prof. G. Sava.
Dalkılıç got her Associate Professor degree in March 2006 and then her Professor degree on November 2013 in the Hacettepe Ankara State Conservatory, where she currently teaches. Besides her role as Turkish representative for the European Piano Teachers Association, she continues her career as a soloist both home and abroad, alongside her frequent radio and TV broadcasts. For more information about Hande Dalkılıç's works and biography please visit www.handedalkilic.com