HERMANA
The Untold History of Ankara's Jewish Community
Winner of Best Documentary Audience Award in Boston Turkish Festival's
12th Annual Documentary & Short Film Competition
Directed by Enver Arcak

Doc. / 2017 / 28 min. / with English subtitles
One of the earliest Jewish communities in Anatolia was located in Ankara. Their history goes back to the 2nd Century BC. After the migrations in the 15th Century from Spain and Portugal, and later from Germany and other European countries in early 20th Century,  the community had reached its highest numbers in the city. The documentary portrays the untold story of the community through interviews with the community members who migrated from Ankara to İstanbul, or to Israel.
Selected Festivals and Awards
Boston Turkish Festival Documentary & Short Film Competition (2017): Best Documentary Audience Award
Ankara International Film Festival, Turkey (2017)
European Days of Jewish Culture, The Quincentennial Foundation Museum of Turkish Jews, Istanbul, Turkey (2017)
Documentarist, Istanbul, Turkey (2017)
SALT Galata, Istanbul, Turkey (2017)
Director ENVER ARCAK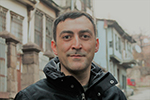 Enver Arcak (Ankara, 1977) is an independent researcher. He studied Art History in Bilkent University. He attended film making and video production classes during his university years and continued with related courses and workshops after his graduation. His articles on urban culture and cinema are published in "Solfasol Newspaper" and his own blog "Aklına Estikçe".