Directed by Selçuk Aydemir 

Cast: Ahmet Kural, Murat Cemcir, Saadet Işıl Aksoy, Cengiz Bozkurt, Günay Karacaoğlu, Bihter Dinçel, Mustafa Alabora, Çağlar Ertuğrul, Serhat Özcan, Serhat Özcan

2018 / 113 min. / with English subtitles
Ferhat is a rich, immature, and spoiled man who becomes CEO of his father's company. His best friend Gökhan is the CFO of the same company. They run the company together, but do not receive any sympathy from the staff because they mistreat their subordinates. One day, they make friends with a restaurant owner, and Ferhat falls in love with the owner's daughter, Elif. She is a tough and smart woman, highly successful in her career, and does not make it easy for Ferhat. 
Director SELÇUK AYDEMİR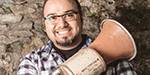 Selçuk Aydemir (Istanbul, 1982) is a graduate of Aeronautical Engineering in Istanbul Technical University. He is a director and script writer. His filmography includes Düğün Dernek 2 (2015), Kardeş Payı (TV Series, 2014), Çalgı Çengi 2 (2013), Düğün Dernek (2013), Işler Güçler (TV series, 2012), Üsküdar'a Giderken (TV series, 2011), Çalgı Çengi (2011), Ramazan Güzeldir (TV series, 2009), Kurbanlık (2008).
Director's Photo: www.kameraarkasi.org