AYÇA DAMGACI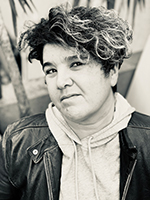 Graduated from Istanbul University Theater Department. Directed and acted in several plays for Tiyatro Oyunevi. Also, performed in New York LaGuardia Performing Arts Center and LaMaMa in contemporary theater plays.
Co-writer and leading actress of the film "My Marlon and Brando" which participated and won several awards in local and international film festivals. With this film, which is based on her journey to her lover in Iraqi Kurdistan, she won best actress prizes in Istanbul, Sarajevo, Adana, Tetouan and Nurnberg Film Festivals.
Also, acted in several well-known movies such as "Aylavyu", "Do not Forget Me Istanbul" and "Yozgat Blues" as well as popular Turkish TV series such as "The Yard". Patrida is her first feature documentary film co-directed with Tumay Goktepe.
Ayça Damgacı.was a guest of the Boston Turkish Film Festival at the screening of My Marlon and Brando (Gitmek) in 2009.