BETWEEN TWO DAWNS
İki Şafak Arasında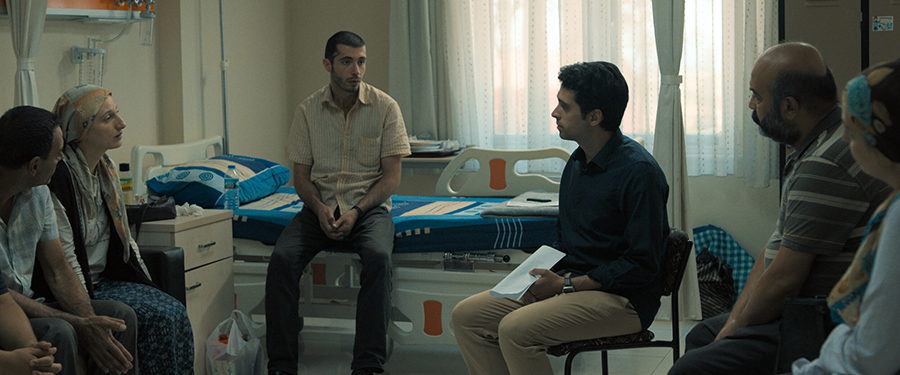 Directed by SELMAN NACAR

Cast: Mücahit Kocak, Nezaket Erden, Ünal Silver

2021 / 91 min. / with English subtitles

After a worker is severely injured in their family business, Kadir is forced into making a moral decision, which will have an impact on his dreams, his family and the life of the injured worker's wife.

Selected Festivals and Awards
Antalya Golden Orange Film Festival, Turkey (2021): Cahide Sonku Award, Dr. Avni Tolunay Special Jury Prize, Best Supporting Actor, Best Supporting Actress
Bosphorus Film Festival, Turkey (2021): Best Actor, Best Debut Film
Free Zone Film Festival – Balkan Horizons: Regional Selection (2021)
Malatya International Film Festival, Turkey (2021): Best Director, Film-Yön Best Director Award, Jury Special Award
San Sebastian International Film Festival, Spain (2021): Films in Progress Award
Torino International Film Festival, Italy (2021): Best Feature Film
Transylvania International Film Festival, Romania (2021): Transylvania Pitch Stop Award
Sao Paulo International Film Festival, Brazil (2021)
Director SELMAN NACAR

Selman Nacar is a filmmaker, with a Film in Directing MFA from Columbia University in New York City. He graduated from Istanbul Bilgi University Faculty of Law in 2015, and from the Faculty of Film in 2016. He's an alumnus of the Berlinale Talent 2019, and the First Films First 2020. He's the founder of Kuyu Film, a production company that produced the films "The Pillar of Salt" (2018) and "Belonging" (2019), both having premiered at Berlinale. Selman's directorial debut "Between Two Dawns" will premiere at 69th San Sebastian Film Festival and he's currently working on his second feature "Hesitation Wound".

Selman Nacar is the recipient of Best Short Film Audience Award with his short film "The Well" (Kuyu) at the Boston Turkish Festival's Documentary and Short Film Competition in 2015.

WATCH THE TRAILER