BAD CAT
Kötü Kedi Şerafettin
U.S. Premiere


Take the outrageousness of Fritz The Cat, the cuteness of Garfield, add the whip-smart action of Tarantino, put it in a blender and voila! What you get is Bad Cat: a crudely funny, action-packed animated motion picture for adults.
In a sleazy downtown area of Istanbul, Rıfkı the Seagull and Rıza the Rat are preparing for the mother of all parties hosted by Shero, a hot-blooded, sex-crazed alley-cat. Their night of booze, babes and BBQ is thrown into chaos, however, following the unexpected arrival of Shero's illegitimate, but ever-so-loveable son Taco, along with the accidental death of a sweet, innocent housebound feline who was the object of Shero's affection. With the dead cat's owner hell-bent on avenging her death, Shero must face being a father, defeat the crazed lunatic and still leave time to fall in love before his nine lives become none.
Selected Festivals and Awards
SIYAD Turkish Film Critics' Association Awards (2017): Giovanni Scognomillo Best Fantastic Film
Anima Mundi Animation Festival, Brazil (2016)
Cinanima, Portugal (2016)
Cinedays Skopje Film Festival, Macedonia (2016)
Fantasia Film Festival, Canada (2016)
Istanbul International Film Festival, Turkey (2016)
Neuchâtel International Fantastic Film Festival, Switzerland (2016)
Sitges - Catalonian International Film Festival , Spain (2016)
Directors MEHMET KURTULUŞ and AYŞE ÜNAL



Mehmet Kurtuluş is the co-founder and the CEO of Anima, which was established in 1995 as a stop-motion animation studio. He has directed and supervised numerous TVCs using all kinds of animation techniques.
Ayşe Ünal has also been working as a director at Anima since 2007. Together they have supervised VFX and animation pipelines for countless features, documentaries and TV series.
Bad Cat is their first feature, a long-time dream of the studio.

WEDNESDAY, MARCH 22, 2017
5:30 pm
Remis Auditorium
Museum of Fine Arts
465 Huntington Avenue, Boston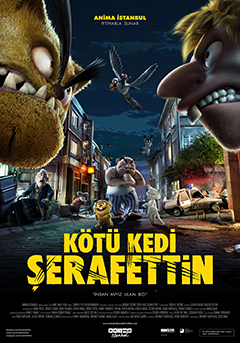 Directed by
Mehmet Kurtuluş and Ayşe Ünal  
Voices of
Uğur Yücel, Demet Evgar, Okan Yalabık, Ayşen Gruda, Güven Kıraç,
Ahmet Mümtaz Taylan, Gökçe Özyol,
Cezmi Baskın, Yekta Kopan
2015 / 82 min.
with English subtitles